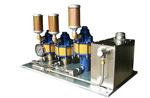 SC Hydraulic Engineering Corporation has been supplying power units for decades for use on numerous applications such as bolt tensioning, hydrostatic testing, burst testing, hydraulic press, to name a few. Anywhere a compact hydraulic source is required is a perfect choice for a SC Hydraulic Engineering Power Unit. Best of all, an electric power source is not required so power outages or burn-out of motors are never a problem.
The 10 Series standard power units are available in five different models, available with or without a reservoir. The footprint of the base can be as small as 9" x 10 1/2" for mounting in compact locations.
Reservoirs are manufactured either from stainless steel or polyethylene for corrosion resistance and long life. The three basic models of pumps are used on the power units therefore literally hundreds of models are available.
In addition to our standard offering SC Hydraulic Engineering also manufactures many custom power units to individual specifications. These include high-low or multiple pump units, special reservoirs, chart recorders, etc.
In most cases a power unit can be shipped in two weeks or less (or within two days with an expedite fee). If you need a solution to a hydraulic application fast and inexpensively call us or contact your local distributor for immediate assistance.
Seven series available - choose from: