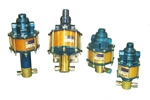 SC air operated hydraulic pumps operate on the simple but efficient principle of pressure intensification through the use of differential areas. Fulfilling Boyle's Law, a larger air-driven piston delivers pressure to a proportionally lesser diameter hydraulic piston, providing fluid flow at relatively higher pressures.
High output capacity and outstanding performance provided at very low cost.
All SC Hydraulic pumps will give years of low cost, trouble free service when properly installed and maintained to manufacturer's instruction.
Wide range of operating pressures is provided by all models. For example, the D5000B55 operates efficiently when delivering from 400 to 5800 psi (see D5 Series specifications).
Due to a wide range of output capacities, only 100 psi air pressure is required for all models to attain maximum rate of flow (see performance charts for data).
Whenever an SC Hydraulic pump is idle, the pilot valve is designed to re-position the pump on the power stroke for the next cycle of operation.
The air piston actuating valve is precision fit to close tolerances for maximum efficiency and long service life.
Both pressure and volume of flow are easily and accurately controlled by a pressure regulator installed in the air supply line.
Pumps can operate with almost any type fluid service (specify when ordering).
Hydraulic cylinders are constructed from aluminum-bronze, stainless steel, or carbon steel.
Hydraulic pistons are constructed from stainless steel, hard chrome-plated.
Materials incorporated in the hydraulic assembly vary depending upon type of service and pump model.
Costly down time is reduced to a minimum when service is required. "D" Dry Lube Series pumps are packed at the factory with valve lubricant and may be operated without a lubricator in air supply. Hydraulic cylinder packing may be replaced without dismantling the air motor.
Three series available - choose from: