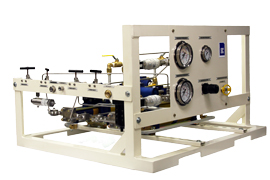 SC Hydraulic Engineering Corporation builds every booster system like it's a custom unit built just for you. What separates us from other manufacturers is how fast we can ship you a complete system, whether it is considered a standard or in fact is a custom unit.
Our standard delivery for a complete system is one to two weeks, even quicker if you're willing to pay a nominal expedite fee. Better yet, a custom unit i.e. multiple boosters, extra ports, special valves, etc. is typically 3-4 week delivery. In most cases our deliveries are only extended if we have to wait for customer supplied add-on parts.
Our 3-4 week delivery for specials is about half the time other manufacturers' quote for a standard booster system! We are able to do this because it is all we do. Our gas booster department builds only gas boosters and gas booster systems. The size of our company (we're proud of the fact that we are not the largest) gives us the ability to be extremely flexible and work with each customer as an individual, not part of the herd.
Plus most of our manufactured parts are produced in house on state-of-the-art equipment. We are never dependent on some supplier's missed delivery, hence backing up all the orders in-house.
Our standard booster systems are built in three categories depending on the maximum outlet pressure a unit can deliver, 6K, 20K, or 25K PSI. Virtually any booster we manufacture can be used in a system.
Standard items on the booster are inlet air and gas supply filter, panel mounted air shut-off, regulator, air drive, gas supply and outlet gauges, and relief valve.
Bulkhead connections for air supply, gas supply and gas outlet are mounted on the side of the tubular frame, Standard frames are 38' or 45" long depending on the booster model.
Standard options are outlet filter, automatic start and/or stop pilot switches, hydrogen, or oxygen service.
Six series available - choose from: